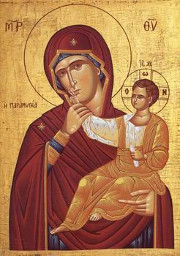 Recomandari:
Resurse ortodoxe
: www.resurse-ortodoxe.ro - Contine o bogata colectie de resurse ortodoxe audio/video/text: predici, rugaciuni, carti, conferinte, icoane, filme.
Agentia de stiri "Noutati ortodoxe"
: www.noutati-ortodoxe.ro - Ofera stiri si informatii din viata bisericii ortodoxe, evenimente religioase, conferinte, aparitii editoriale. Stirile pot fi preluate si de alte site-uri prin intermediul unui script.
Maica Domnului
: www.maicadomnului.ro - Preacinstire pentru Maica Domnului - Prea Curata Fecioara Maria.
Biblia ortodoxa
: www.biblia-ortodoxa.ro - Site de prezentare a bibliei ortodoxe, talcuiri, articole. Ofera Evanghelia si Apostolul zilei.
Biblia audio
: www.biblia-audio.ro - Varinta audio partiala a bibliei ortodoxe.
Portal ortodox online
: www.crez.ro
Calendar ortodox
: calendar-ortodox.crez.ro - Calendar ortodox pentru anul curent generat dinamic cu icoana zilei; poate fi preluat de alte site-uri prin intermediul unui script.
Orthodox portal
: www.orthodox.ro - A presentation of the orthodox romanian treasure.